began broadcasting 24 hours a day with the Ultimate Digital Studio CD automation system.
In
June 2001
, the automation system was upgraded to the Audio Vault 100 Digital automation system. In the
summer of 2005
, the automation system was
upgraded to AudioVault 2.
July 14, 1994
marked the date that
WKPW-FM
increased the power to 4,400 watts and became the second-highest-powered high school station in the State ofIndiana.
WKPW-FM
has the potential to reach nearly 38,000 + listeners daily. The signal has reached listeners as far away as Jeffersonville, Indiana to near
Cincinnati, Ohio and now that we're streaming online.....World Wide! Visit our
"Listener's Page
"
to see who's listening or go to the
"Home Page"
and click the
"
Listen Live
"
button to listen online.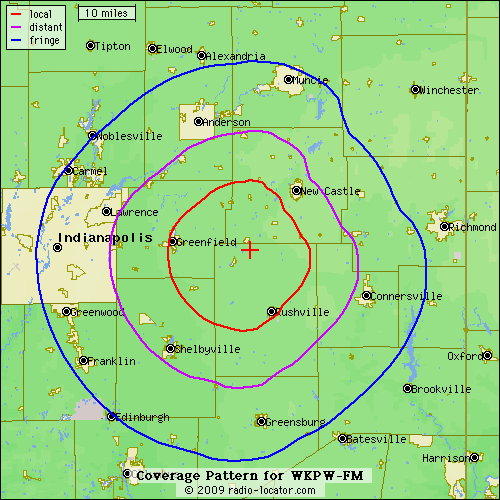 WKPW-FM began building new 2000 + sq. ft. "Showcase Studios" in January 2009 at the Knightstown High School.

WKPW-FM transfered ownership from the Indiana Soldiers' & Sailors' Children's Home to the New Castle Area Career Programs in June 2010.

WKPW-FM moved into new studios at Knightstown High School on May 24-26, 2011.

WKPW-FM is a student-operated noncommercial high school radio station, operated by the New Castle Career Center, located at Knightstown High School in Knightstown, Indiana

Key Personnel

Robert Hobbs, General Manager/Director

Jediah Behny, Superintendent, Charles A. Beard Schools

Mike York, Program Director/Instructor

Brian Woods, I.T. Director

Format

24 Hour Commercial-Free Classic Hits from the 60's, 70's, 80's & mid 90's

Power

4,400 Watts

Address

WKPW FM

8149 West U.S. Hwy. 40

Knightstown, IN 46148

Studio/Office: 765-345-9070

School: 765-345-5153, ext. 400

Fax: 765-345-7977

e-mail: wkpw@wkpwfm.com







Air Studio

20 Channel AudioArts R-90 Console - Shure SM7B Microphones - Crown Power Amp - JBL Monitors - dbx Microphone Processors - Marti Remote Receiver & Transmitter - Sage Emergency Alert System - Audio Vault 2 Digital Storage System - 2- /24" Dell Monitors - Adobe Audition 2.0






Prod 1

32- 8 Mackie Console - Electrovoice RE-20 Microphones - Symetrix 528E Microphone Processors - Crown Power Amps - JBL Mix Down Monitors - JBL 4410 Studio Monitors - Adobe Audition CS6 - Audio Vault 2 Automation System


Prod 2

12 Channel Audio Arts Console - Electrovoice RE-20 Microphone - Symetrix 528E Microphone Processors - Crown Power Amp - JBL Monitors - Audio Vault Workstation - Audio Vault 2 Automation Systems - Adobe Audition CS6 - Triple Array Monitors








Prod 3

12 Channel Audio Arts Console - Electrovoice RE-20 Microphone - Symetrix 528E Microphone Processors - Crown Power Amp - JBL Monitors - Audio Vault Workstation - Audio Vault 2 Automation Systems - Adobe Audition CS6 - Triple Array Monitors








RF Equipment






Broadcast Electronics Transmitter - Broadcast Electronics Exciter - Orban 8100A Optimod - Orban 8100a/XT2 Limiter - Belar FM Modulation Monitor - Belar Stereo Monitor - AudioArts Distribution Amplifier - Arbitron PPM Encoder -Inovonics RDS Encoder Broadcast Tools Switcher - Mosley STL Transmitter & Receiver









*****Transmitter is backed up by a 55 kw Kohler generator*****


WKPW Article in Radio World
September 1, 2012
(click here to read article)